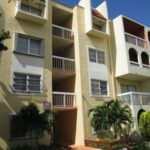 Kings Creek is a sub market located in southern Miami-Dade County in Glenvar Heights (zip code 33143). The community of Kings Creek is bordered by Kendall Drive to the south and and unincorporated South Miami to the north. It's easy access to the 826 Palmetto Expressway, US-1 via the 878 Snapper Creek Expressway, and the Dadeland Metro Rail Station make this location desirable for busy commuters.
Kings Creek was first developed in the late 60's and features a wide variety of single family homes, townhomes, condominiums and apartments for rent and/or sale. The Village of Kings Creek offers three separate condominiums and one townhome community:
The Village of Kings Creek Condos (4 Floors, 1 & 2 Bedroom & Baths, Sq. Ft.: 712-1,433)
Kings Creek South Condos (4 Floors, 1-2 Bedrooms & 2-3 Baths, Sq. Ft.: 715-1,200)
Kings Creek West Condos (2 Floors, 1-2 Bedrooms & 1-2 Baths, Sq. Ft.: 833-1,140 )
Kings Creek Townhomes (2 Floors, 2-3 Bedrooms & 2-3 Baths, Sq. Ft.: 1,292-1,528)
Prices range from $129,900 to $599,000. All of the listed condominiums and townhomes offer access to amenities such as private gym, tennis courts, basketball courts, pools and a central clubhouse as well as private and public parking. Located to the west are the mid sized single family homes which generally sit on a 1/4 acre of land and feature either 1-2 garages and a driveway. Most homes are around 2000 sq. ft. with a medium sale price of $337,000. Single home residents can still enjoy all the access to the community's amenities (fees required). Call Tim Buchanan at Kendall Realtors today at (786) 515-7029 and find out which condominiums, townhomes and residential homes are available for rent or sale.
Besides the aforementioned amenities The Village of Kings Creek features a town center where you can find many different restaurants and businesses such as: Hole In The Wall, Papa Piccolo's, Serendip-a-tea, and Thump Fight Gym. Additional shopping, dining and entertainment can be found at Dadeland Mall, Downtown Dadeland, the Greenery Mall and the long running Norman's Produce which are located within one mile of Kings Creek. Kings Creek is also located within one mile of Baptist Hospital and Medical Center. Finally, both Publix and Winn Dixie supermarkets are located within one and a half miles of Kings Creek.
Kings Creek is conveniently located near many public schools such as Kenwood K-8 Center and Ludlam Elementary. In fact located within the community itself is the well reviewed My First Place Preschool.
If you are resident of Kings Creek and would like to list your property or are interested in buying or renting a single family home, condominium, townhouse or apartment call Tim Buchanan at Kendall Realtors (786) 515-7029 or email me at CONTACT.